Creating a Business Succession Plan
Jan. 16, 2023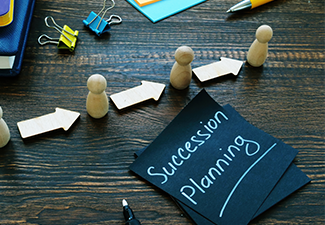 Starting and operating a business is a full-time challenge, whether you're the sole owner, co-owner or partner, or founder and executive of a corporation. What often gets overlooked in the day-to-day process of ensuring the enterprise's vision is on track, expenses are being met, and profits are ringing up is what happens if one of the main players suddenly has to leave the scene, whether for personal reasons like retirement or health, or because of a sudden, unexpected death.
In other words, sometimes the last factor to be considered in business operations is succession planning. What happens if the owner or a significant player in the enterprise is suddenly gone? Who is going to take over? Who gets their share of the business? According to the National Association of Corporate Directors, fewer than one in four private company boards say they have a succession plan in place.
If corporate boards push succession planning to the back burner, what does that say for sole proprietors and partnerships? Are they similarly unprepared? For any type of business, a lack of a succession plan invites disruption, uncertainty, and conflict, not to mention endangering future competitiveness.
If you're a business owner, partner, or founding shareholder, a succession plan is equally as important as an estate plan, such as a will or trust, and should be included in all planning for the future of you and your loved ones. Without a succession plan for your business interests, your loved ones can be forced into conflict and confusion over what to do if you're suddenly gone.
For all your estate planning and business succession needs in or around Tonawanda, New York, contact the Law Office Of Corey J. Rossi, PLLC. We are experienced and knowledgeable estate and succession planning attorneys who can help you assess your options regarding your business interests and ownership and guide you to provide a clear legal path for your loved ones when it comes to the transfer of business assets.
The Law Office Of Corey J. Rossi, PLLC not only serves clients in and around Tonawanda, New York, but also in Amherst, Wheatfield, and throughout the counties of Erie and Niagara.
What Is Business Succession Planning?
In a nutshell, business succession planning concerns who will take over your business ownership and management interests when you decide to move on, leave for health reasons, or suddenly pass away. With no plan, confusion and conflict can set in, not only for the partners in your business but also among family members.
If you own a sole proprietorship, you can certainly leave the business to your loved ones through a will or trust, but is there a family member willing and capable of running it? What if your family is forced to conduct a fire sale because they are not prepared to take over in your shoes? Even if you own part of a business with others as a partner, co-owner, or even corporate shareholder, you must have a plan not only to deal with your ownership interests but also to care for your family members.
A business succession plan also mitigates potential infighting among co-owners or partners should you leave or pass on. If there are co-owners or partners, then an agreement needs to be in place from the beginning of the enterprise to provide for dealing with the ownership share of any departing co-owner or partner.
Business Succession Planning Options
The first step is to confer with an experienced and knowledgeable business succession/estate planning attorney. The type of business ownership you're involved in will then dictate how the plan should unfold. In your plan, you will need to cover how your role in the company will be assumed and by whom and how you will receive compensation for your investment.
As for ownership, there are basically five ways to transfer your business ownership:
Heir: Pass your ownership interests to a family member. However, that family member has to be prepared and trained in advance to do so, and also be willing to step into your shoes. Sibling rivalries might also result to make the transition even more difficult.


Co-Owner: Sell your shares or interest to a co-owner. It's important to have an agreement in place on how this transfer is to take place and also how your interest in the business is to be valuated in order to prevent arguments.


Key Employee: Sell your business to a key employee. This is generally only possible if you're a sole proprietor. In addition to preparing the key employee to take over, you must also have some kind of financing option in place since an employee would most likely be unable to pay cash upfront. Perhaps a down payment and quarterly installments can be arranged.


Third Party: Sell your ownership interest to an outside party. Again, valuation is an issue, and also, if you're not the sole proprietor, your co-owners or partners might not want an unknown person or entity suddenly joining their ranks. Plan and agree ahead.


Company: If you're a partner or co-owner in a company, provisions can be made for the company itself to buy out and assume your interest and responsibilities. Generally, either the partners or the company itself can take life insurance policies on all the partners or co-owners so that if one dies, the insurance can be cashed out to pay the heirs of the decedent for his or her share so it stays within the organization.
Get Needed Support From a Knowledgeable Attorney
From the very start of your business ownership, you should begin the process of succession planning to avoid the conflict and confusion that may otherwise result. If you're a sole proprietor, you can train a family member to take over and then designate the distribution of assets, including your business, through the creation of a living trust.
If you're in business with others, you need an agreement consented to by everyone that covers every aspect of ownership transfer. If not, chaos can result and the business's survival can be threatened.
If you're in the Tonawanda, New York, area, contact the succession/estate planning attorneys at the Law Office Of Corey J. Rossi, PLLC. We have helped countless others ensure peace of mind for all when it comes to business ownership issues so that any transfer and transition can take place as seamlessly as possible.