Creating a Trust for Children With Substance Abuse Issues
Aug. 24, 2023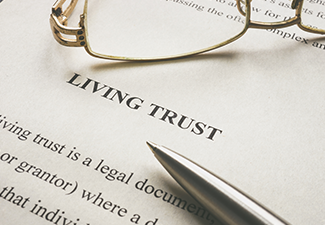 Having a child with a substance abuse disorder is heartbreaking. It can be overwhelming thinking of how to provide for them when you're no longer around.
A last will and testament can assign assets to each child to provide for their well-being after you're gone, but if a child suffers from substance abuse, the cash and/or assets may just be used for their habit.
An alternative is to set up a trust. A trust has several advantages over a will. First, it avoids probate court proceedings, whereas a will (or dying without a will) must go through the legal process of resolving the estate and all its debts before beneficiaries can receive anything.
A trust is also private, not public. Not only are there no courtroom proceedings, but there is also no public record that anyone can access. A final benefit of a trust (if set up properly) is that it can set conditions that your child with a substance use disorder must meet before being able to access the assets or cash available in the trust.
If you have a child with a substance abuse problem in or around Tonawanda, New York, and wish to explore the options of caring for them when you're gone, contact us at the Law Office Of Corey J. Rossi, PLLC.
We are estate planning attorneys who can help you establish a trust that will provide for your child and ensure the assets are not just used to further their habit. We also proudly serve clients in Amherst, Wheatfield, and throughout Erie County and Niagara County, New York.
Possible Inheritance Concerns for a Child with a Drug Problem
Say you establish a last will and testament and designate your child with the substance abuse issue to receive part of your estate for a safety net moving forward in life. When probate is over, and the executor of your estate distributes whatever you designate to your beneficiaries, the child with the drug problem can blow through the money to feed their habit.
If you leave tangible assets, the child may sell those off to raise cash to further their addiction. They might even run up debts with drug dealers or others, who could then have a claim on the inheritance.
In a worst-case scenario, they could go completely overboard with their newfound wealth and end up overdosing, which could lead to serious health issues and even death. In other words, leaving assets in a will is not a wise choice for a child with a substance abuse problem.
This is where setting up a trust comes into the picture. You can leave instructions for the trustee (whom you must also choose carefully) only to provide for rent or basic necessities, and perhaps only then if they bring a bill or receipt so the trustee can verify things. You can set up the standards you choose.
Spendthrift Trusts and How They Work
A spendthrift trust is like any other trust except that it contains a spendthrift provision that tells the trustee how to take care of the beneficiary, who is your child with the drug problem. This provision gives the grantor – the person creating the trust – the power to dictate how the assets will be distributed to the beneficiary. For instance, the grantor can stipulate that only a certain amount be distributed monthly or as-needed basis.
Another option is to set up contingencies based on the child's adherence to a drug treatment program. When the child completes each step of the program, the trustee can reward the child with benefits other than cash. Cash, after all, may only stimulate the child to buy more of the substance they've been abusing. Instead, the trustee can give out a paid vacation, a club membership, the use of a car, or other non-cash benefit.
Some of the contingencies can include:
Remaining drug-free and sober for an extended period.

Attending AA or NA meetings.

Meeting with a therapist, physician, or psychologist to overcome the addiction.

Pursuing vocational training and/or providing proof of continuing employment.
Role of the Trustee
Choosing a dedicated trustee is vital to the success of a spendthrift trust. It could be a family member, close friend, associate, or even a professional fiduciary. Choosing the latter, however, will add to the expense of managing the trust. Some of the questions you should ask yourself before stipulating the spendthrift provision of the trust are:
Should the trustee make payments to the beneficiary, or purchase the goods and services for the beneficiary?

How often are payments to be made? Even if you set up treatment contingencies, the beneficiary is still no doubt going to need to cover rent, utilities, and sustenance.

Can the trustee withhold payment if there is evidence of drug abuse, gambling, or other questionable behavior?
Note that if the beneficiary runs up debts, the trust cannot be touched. Assets within the trust belong to the trust and cannot be claimed or seized by creditors or individuals owed money.
Find the Best Solution for Your Family
Estate planning is an important tool to ensure peace of mind for you and your loved ones going forward. If you have a child with a substance abuse issue, you need to consider the benefits of a spendthrift trust. Reach out to us at the Law Office Of Corey J. Rossi, PLLC, with all your questions and concerns about estate planning and spendthrift trusts. We serve clients in and around Tonawanda, New York.