Why Choose an Estate Planning Attorney Over Online Forms?
Nov. 23, 2022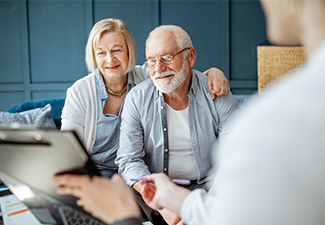 We've probably all seen television advertisements for online services where you can go create a last will and testament for a few bucks. While online services can be great for certain aspects of life, attempting to create an estate plan for your loved ones in a do-it-yourself fashion can present several hurdles—both personal and legal—that are better resolved by the traditional route of seeking professional legal help.
Even though the ads say their service is tailored to the state where you live, that just means it meets certain legal tests to be valid at the time you create it. The bigger issue is that an estate plan needs more than a form with checkboxes and fill-in-the-blanks. Planning for your future and the future of your loved ones requires a comprehensive review and assessment of every potential event in the future.
If you're in or around Tonawanda, New York, and you're looking to plan for the future, contact Law Office of Corey J. Rossi, PLLC. We have helped countless individuals and families create comprehensive estate plans that provide peace of mind going forward. We proudly serve clients in Tonawanda as well as Amherst, Wheatfield, and throughout Erie County and Niagara County.
Why Estate Planning Is Important
Proper estate planning goes well beyond just deciding who gets what when you pass away. Estate planning should consider unforeseen circumstances that can disrupt your own life, perhaps leaving you unable to make financial or health decisions for yourself. There are legal vehicles to designate others whom you trust to make those decisions, according to your wishes, should you become incapacitated.
A simple do-it-yourself will created online will not provide protections for you or your loved ones should an unfortunate event occur. A will only takes effect when it is presented to a probate court and deemed valid. In addition, just going online and filling out a form to execute a will is not going to explain to you alternative options that are equally as vital.
For instance, if you create a living trust, when you pass away there will be no probate proceedings. The trustee you name in your legal document will be able to settle your estate and distribute your assets without the delays of filing endless reports with a probate judge.
An estate planning website may also not explain the importance of creating what is called a living will, or health care directive, for the very real possibility of becoming incapacitated and unable to express treatment decisions for yourself. The website also likely will not introduce you to the concept of a power of attorney to give a trusted family member or associate the power to manage your property and finances should you become incapacitated.
Online Forms vs. Estate Planning Attorney
While the estate planning options mentioned above may be available online, deciding which of them you need to execute and why is not something the average person might consider. The average person may just think creating a will or trust is all they need.
Suppose you do just create a will or trust. Though these sites often say the forms are state-specific, that does not necessarily mean the finished product will meet all the legal standards or stand the test of time. The user may create ambiguities or pass over important details that need to be considered, opening up the will or trust to legal challenges.
Another consideration is making modifications. Many people who create wills or trusts often forget to update them when the circumstances of their lives change. They may get divorced and remarried or obtain assets that they then forget to include in their will or trust. An online form is essentially a one-time event. If you need to change what you've created, you'll likely have to start over from scratch.
In contrast, if you create the documents with an attorney, you can and should conduct a periodic review of your estate plan instruments and update them according to the new realities of your life.
Wills and trusts are subject to challenges when you're gone. Beneficiaries might argue over the terms—"Why is he getting that and not me?" Disputes can erupt. If your wishes and intentions were not clearly spelled out, or if one beneficiary accuses another of undue influence, legal challenges can result. However, if you create your documents with an attorney, the attorney can vouch for your intentions if a legal challenge does arise. In an even worse case scenario, a will or trust document may get lost, or someone can even dispose of it in hopes of getting more for themselves in court. An attorney who has a copy of your legal estate plan can step in and provide the proper document.
Legal Guidance Tailored for You
Estate planning is not really a DIY proposition. It's better to have an attorney review your life circumstances and wishes with you to create a well-rounded estate plan that takes into account not only what happens when you pass away, but also what happens if you face challenges while alive. Updating, safeguarding, and vouching for your estate plan are tremendous benefits of working with an attorney.
If you're in or around Tonawanda, New York, contact our estate planning attorneys at Law Office of Corey J. Rossi. We're ready to help you find a path forward.